Once upon I time I had an impulse and that was to buy myself a pizza oven to do bread in. As all my friends know I am quite a bread-aholic and even though this oven purchase took several weeks of talking about it with my wife it was still a impulse buy and one that I am not yet sorry for.
---
Back in June 2002, I think, Laurie (my wife) got me a monthly magazine that was doing a special on "grilling", in it was a single picture of a "Medio oven by Mugnaini" and it simmered in the back of my head for months. Then I asked my wife to get me a Lamb Brochettes recipe that I remembered reading earlier and she said it was in the magazine with the oven, that made me look into a wood burning oven.
As I started looking on the net, I found surpirisingly little on building and cooking with one of these but I found several manufacturers. For starters of course I looked at Mugnaini since that was in the article and also sent off e-mails to Renato and Earthstone (2 e-mails) but neither of them replied my e-mails. Too bad too since Renato is cheaper than Mugnaini and Earthstone is only 1 hour away from me and I have read quite a bit of good stuff about Earthstone. Muganini replied to my first e-mail on the same day and answered all my questions and I searched all over the web on Mugnaini ovens and found some good things ( 1 2 3 )and nothing bad about the ovens. Based on somewhat limited research it appears that Earthstone ovens are quite good but Mugnaini may be better, certainly the company was better with its communication. Those of you who know me, know I talk in e-mail and not telephone if I have a choice so if they didn't reply to my e-mail, I didn't want to deal with them. I also looked into building my own from Ovencrafters which was quite appealing but the Mugnaini ovens won out due to fear of failure since I have never built a masonry anything before.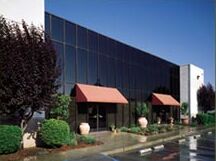 So after 2 weeks after asking my wife for that magazine, I got a day off a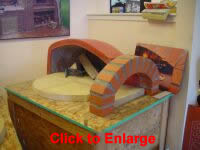 nd drove up to see a Mugnaini oven in person. I left home at 6AM (10-29-02) and arrived there at 11AM after a rather long and boring yet nice drive. I had moments of tremendous boredom while I tried to stay awake at the wheel yet I also enjoyed the sunrise and stopped to see the ocean (even though I see it often). Once I arrived I was warmly greeted and shown a un-assembled oven and a extremely nice assembled oven on a wrought iron stand and nice tilework, this was the Piccolo I was to see in use during the day. Andrea and John were extremely helpful and made several pizzas for me to taste, I was amazed at how quick they cooked, yes I knew all along it was supposed to take 2-3 minutes but it was still surprising to see it done. Although, I have to admit I make a better pizza in my gas oven and pizza stone, the crust was soft and chewy which I was not expecting, After all we all know it is the crust and not the toppings that make pizza good . It had a better flavor than my pizzas however and I hope that with my time modified recipe for the dough it will be good in the oven (come back here in 2 weeks and see). Everything I read prior to going up is that they will be great so I was not too concerned.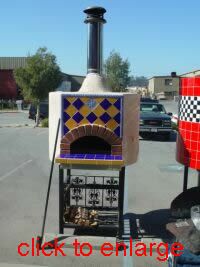 I bought a Piccolo which they loaded on my truck and I drove back home with another boring drive. On the way home I planned to build my oven with steel legs like the one above but since I was not going to Stucco it I was afraid it would look odd and top heavy so I poured a slab and built it with bricks. I cleared the wife approved spot but once she saw the size, she moved it to its current location, luckily I had not poured concrete yet. The costs of this thing are here , I overkilled it and I could have done it cheaper but I like the results.